Competition Slide
We demonstrate how to create an eye-catching pitch deck for your company.
THE SLIDE DISCUSSED
Why a competition slide belongs in your pitch deck.
Without competition, businesses cannot exist. Why do you believe that? If there is a genuine issue you address, there is undoubtedly someone among your potential clients working to find a solution. In most cases, this will be a product of a competitor of yours.
On your competition slide, you list all of the major rivals in your market and discuss their strong points and weaknesses. Additionally, you discuss what makes you unique compared to your competitors and where you see yourself fitting into the market. Your competitive advantages, also known as USPs, should be highlighted on the competition slide.
The majority of founders select one of three well-liked graphics for their competition slide. The first one is a graph with the x and y axes labelled with the key characteristics of your product (such as Cost & Value). The second compares the most crucial aspects of the product, and the third is a cluster in which the founders depict the market, including you and your rivals.
INSTRUCTIONS
How you can build a killer competition slide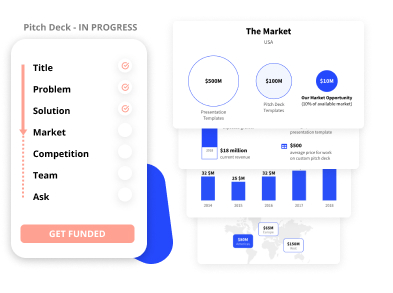 The slide's content
Your response to the issue you identified
Visualisations, graphics, prototypes, and demonstrations of the solution
Queries addressed by your slide
Does it address the issue at hand?
Does the customer want the solution so badly that they will stop at nothing to get it?
After utilizing the solution, how will the client feel?
Are you amazed by the solution?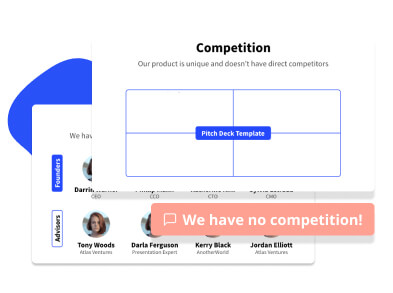 Typical Slide Errors
Including an unsuccessful live demonstration or video (always get the backup)
Make use of bullets
Drawing attention to your proposed solution rather than providing any indication of how things stand now
Slide design
Choose a font style that is easy to read.
Ensure that you use high-resolution images.
Maintain a simple design.